Thanks to ladytruth and I hope more will catch on someday...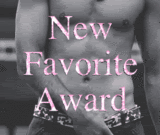 Here are the requirements for this award. In order to be considered for this award, your blog must be relatively new, I say with in the last 6 months. AND must evoke a response from me... Laughing out loud, Fit the bill for obnoxious, give me something useful in everyday life... You get the idea.
I will look to give this out with some sound research soon.