Welcome to the 3rd edition of the
Follow Friday 40 and Over!!
BUT FIRST, HAPPY 45TH ANNIVERSARY TO MY PARENTS! Awesome!
Are you a blogger over 40? Yeah, welcome to the club!
Please join in the fun and get to know your fellow bloggers!!
While you are here, make sure you check out the
Over 40 Blogger List!!
Be sure to join if you haven't already!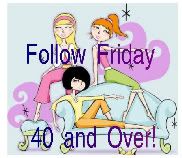 Please hop on over there to join in on another fun way to meet new bloggers and to make new friends. :)
The RULES to join in are very simple!
1. Grab the button
2. Add your link to the list
3. Visit as many other blogs as you can
4. Follow the ones you like (and comment on their blog to say that you are following)
This list is new each week. The links do not carry over. Please link up each week for new participants to find your blogs. It will be visible all week to visit the blogs listed.
HAVE FUN!
So last night, I was taking BFF home with Daughter and Miss Varsity Cheerleader and the brakes went out on the caddy. Foxy worked all day Tuesday on Daughter's car, so now his car is down. Good thing he is off until June 18th! Hopefully he will be able to fix this cheaply an quickly. Hopefully!
DID you watch So You Think You Can Dance (SYTYCD) last night? What amazing things. When Pasha took his shirt off...let's just say my daughter and I were wiping drool off our chins. And Jose with Twitch, Comfort and Dominic. I bow to them. They are all so awesome! Kent Boyd (from Ohio) was perfection with Travis Wall's dance and let me tell you...Wade Robson's (and his wife's) choreography for the opening number, I literally bow down to. I can not get enough of this show. LOVE, LOVE, LOVE it!
Today I only work until noon because this company has summer hours from the Monday after Memorial Day to the Friday before Labor day. I seem to feel rushed today, but my 12:05 pm I am gone!
Daughter and I are getting hairs cut today and Son is having the percussion tryouts. Wish him luck (though he doesn't need it!).
Tomorrow we are going the Banana Split Festival and who knows what else. Have a great weekend, I will try and post something about mine on Monday! Love to all!