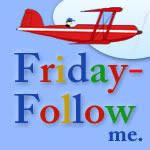 Friday-Follow me is a great way to meet other bloggers! Click the button and start sign up!
This is also Flashback Friday!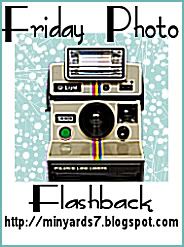 This picture is just a few years old, maybe three. But is it does show how much time has passed for my kids!
This is Daughter, Son and Navy Daughter.
I don't have a newer picture of Navy Daughter, but here is one just taken a few months ago of the other two. Navy Daughter lives in Virginia.
Wow! What a difference in them. She wears her hair different and he just has lost his baby fat and looks grown up.
Now for the randomness. Last night I went out and weeded around the plants. Here is what I found...
The kids came home from their trip to The Mall of America last night. They had a fabulous trip and they brought us gifts! Foxy got two bags of Minnesota Mosquito Bites. LOL. They said there was Moose Droppings, and some other weird stuff. These are Huckleberry Jelly Beans.
In the Mall is a Bubba Gump store and restaurant. I so want to go there! I love seafood and I love Forest Gump! The kids and Foxy pretty much dislike all seafood, so they didn't eat there, but Gma made them go in there and buy me a Bubba Gump t-shirt. I will take a picture of it and model it for you next week!
Well that's all the time I have today. Have a great weekend!